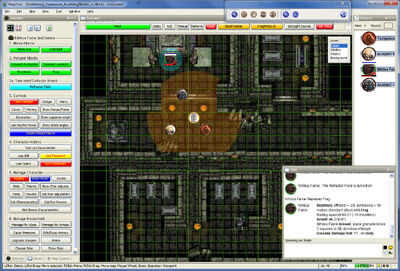 Welcome to the Dark Heresy Online Tabletop Wiki

[

]
The Dark Heresy Online Tabletop Wiki is a repository for information and advice for playing Dark Heresy the 40k RPG online, using Maptool and the Dark Heresy Maptool Framework created by Wolph42.
Introduction
[
]
If you are interested in playing Dark Heresy, the RPG set in the Warhammer 40k universe over the internet with your gaming group, this wiki will show you how. Just follow the instructions over at Getting Started.
If you already use MapTool and are interested in the Dark Heresy Framework by Wolph42, you can download it from the RPTools forums: Dark Heresy Framework : New versions are posted frequently so check for updates! Registration is not required, just click the link and look towards the bottom of the first post for a link that looks like this: DH-RT-DW_framework_Wolph42_v5.0.1.cmpgn (the version may be different).
View the Dark Heresy Framework Features to see everything that it has to offer, or head over to the DHF Overview to take a look at how you might use it.
Latest activity
[
]